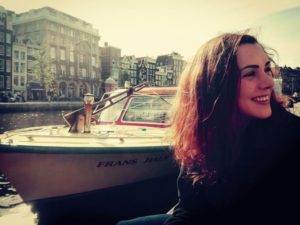 Mi chiamo Judith, ho 25 anni e vivo in provincia di Arezzo, una piccola città Toscana.
L'amore per i frutti della terra e la cucina affonda le sue radici nella mia infanzia vissuta in campagna, dove mia nonna sapeva creare con maestria ogni giorno piatti deliziosi con i prodotti dei campi e dell'orto, danzando con l'andare delle stagioni, trasformando erbe, vegetali e frutti in Cibo per il corpo e per l'anima.
Durante il mio percorso per diventare chef ho avuto modo di viaggiare molto, scoprendo sapori, profumi e approcci culinari diversi, ingigantendo ancora di più la mia voglia di sperimentare e creare piatti buoni e sani.
Voglio condividere le ricette che fanno bene, che scaldano il cuore e l'anima, che emozionano, utilizzando solo ingredienti veri, non lavorati, non processati, integri del loro valore nutritivo.
– – – – – – – – – – – – – – – – – – – – – – – – – – – – – – – – –
My name is Judith, I am 25 and I live in Arezzo, a small city in Tuscany.
The love for the fruits of the land and cooking sinks its roots in my early years of life spent in the country, where my grandmother was able to create everyday delicious dished using the products of the fields and the garden, dancing with the flow of seasons, transforming herbs, vegetables and fruits in Food for the body and the soul.
During my journey to becoming a chef I had the opportunity to travel around the world, discovering new flavors, sromas and cooking techniques, increasing my desire of experimenting and creating new healthy and yummy dished even more.
I want to share dishes that are good for you, that warm the heart and the soul, using only real ingredients, unprocessed, whole with all of their nutritional values.